Christmas Concert
Christmas Concert
Wednesday, December 13, 2017 - 1:30PM - 3:00PM
Wednesday, December 13, 2017 - 6:30PM - 8:00PM

Important: This event has already occurred.

Cornerstone Gym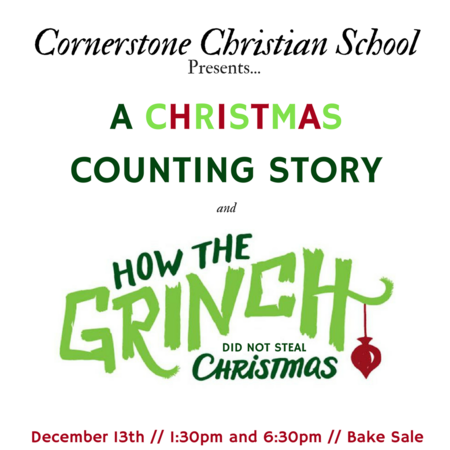 We are so excited that Christmas is upon us! We invite you to join us on December 13th at 1:30pm for our matinee performance and 6:30pm for our evening performance of "A Christmas Counting Story" and "How the Grinch Did Not Steal Christmas!"
Staff and students have been hard at work making this years Christmas concert better than ever!
We will also have some wonderful baked goods for sale at both performances to help raise money for some wonderful winter activities that we have planned for our students!
Return to Events
---